The spectacle is not a collection of images, but a social relation among people, mediated by images. [Guy Debord on facebooks about web and web2.0]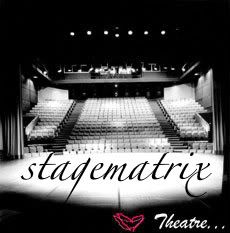 ... stagematrix and STAGEMATRIX
So, what are they, the muses of virtual theatre?
Cyber-creatures...
Oh, the great return to pre-antiquity! Welcome, welcome, my digital barbarians!
Back to street theatre?
Did you hear the word "market"?
Well, how big is this crisis we got in?
Even the Grand Depression is too small for me... I think what took place around Y2K is the catastrophe.
They say -- nothing happened.
Lie.
...
Did I write about the End already? [title]
My memory is gone. Hard drives take care of remembering.
I was was "After the End"... it was sixty years ago. In USSR.
This "ussr" gave the idea that I missed the end.
"Moscow, USSR" -- not Russia?
Now they renamed it back, if it could help...
From "USSR" I arrived to "USA"! What a name for a country!
Of course, it was "theatre" -- everything after 1945 was not "history" but cheap theatrics.
Very expensive spectacle!
WWII was the crisis... and agony.
Beckett noticed it, old drunk. The End. The end of "Before" [including theatre].
Death.
Next step was the resurrection. New "Life"...
How does it look like? [read my nonfiction]
I am to talk about new "theatre" only on the STAGEMATRIX page. [AA]
---